Deset Legendarnih Ratnika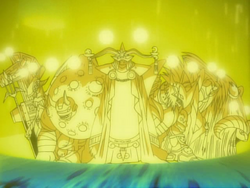 Slika 10 Legendarnih Ratnika.
10 legendarnih ratnika iz sezone Digimon Granica.
Deset Legendarnih Ratnika (十闘士 Jutoushi), na engleskom "Ten Legendary Warriors" (ten ledženderi voriors). Grupa od 10 drevnih mega digimona koji predstavljaju različite elemente. Svoje moći su preneli Digimon Anđelima.
Lista Ratnika
Edit
AncientGreymonEdit
AncientGreymon (エンシェントグレイモン EnshentoGureimon). Ratnik vatre, živi u Takuji Kanbari. Ulazi u formu Agunimona.
AncientGarurumonEdit
AncientGarurumon (エンシェントガルルモン EnshentoGarurumon). Ratnik svetlosti, živi u Kođiju Minamoto. Ulazi u formu Wolfmona.
AncientBeetlemonEdit
AncientBeetlemon (エンシェントビートモン EnshentoBiitomon). Ratnik munje, živi u Đunpeiju Šibajama. Ulazi u formu Blitzmona.
AncientIrismonEdit
AncientIrismon (エンシェントイリスモン EnshentoIrisumon), na engleskom "AncientKazemon" (EjnšntKazemon). Ratnik vetra, živi u Izumi Orimoto. Ulazi u formu Fairimona.
AncientMegatheriummonEdit
AncientMegatheriummon (エンシェントメガテリウモン EnshentoMegateriumon). Ratnik leda, živi u Tomoki Himiju. Ulazi u formu Chackmona.
AncientWisemonEdit
AncientWisemon(エンシェントワイズモン EnshentoWaizumon), na engleskom "AncientWisetmon" (EjnšntVisetmon). Ratnik čelika, nema partnera. Ulazi u formu Mercuremona.
AncientVolcamonEdit
AncientVolcamon (エンシェントボルケーモン EnshentoBorukeemon). Ratnik zemlje, nema partnera. Ulazi u formu Grottomona.
AncientTroiamonEdit
AncientTroiamon (エンシェントトロイアモン EnshentoToroiamon). Ratnik drveta, nema partnera. Ulazi u formu Arbormona.
AncientMermaimonEdit
AncientMermaimon (エンシェントマーメイモン EnshentoMaameimon). Ratnik vode, nema partnera. Ulazi u formu Lanamona.
AncientSphinkmonEdit
AncientSphinkmon (エンシェントスフィンクモン EnshentoSufinkumon), na engleskom "AncientSphinxmon" (EjnšntSfinksmon). Ratnik tame, živi u Koičiju Kimura. Ulazi u formu Loweemona.
Ad blocker interference detected!
Wikia is a free-to-use site that makes money from advertising. We have a modified experience for viewers using ad blockers

Wikia is not accessible if you've made further modifications. Remove the custom ad blocker rule(s) and the page will load as expected.