Yggdrasill (イグドラシル Igudorashiru), u engleskoj verziji poznatiji kao "King Drasil" (king Drasil - kralj Drasil). Dobio je ime po mitološkom drvetu Jgdrasilu. On je glavno biće u digitalnom svetu. U stvari je glavni kompjuter koji kontroliše DigiSvet, i često je predstavljan kao Bog digimona.
Napadi:
Delići Kristala

JP: クリスタルの破片 Crystal no Hahen
EN: Crystal Shards (delići kristala)

Džinovski Kristal

JP: 巨大なクリスタル Kyodaina Crystal
EN: Gigantic Crystal (džinovski kristal)

Samopopravka

JP: 自己修復 Jiko Shuufuku'
EN: Self-Repair (samo-popravka)
Različite Verzije
Edit
Digimon SledećiEdit
- U sezoni Digimon Sledeći je predstavljen kao visoko kompleksan kompjuter, bog digitalnog sveta. Takođe ovo je i standardni oblik u kome se on predstavlja.
Digimon SpasiteljiEdit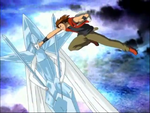 Jgdrasil iz Digimon Spasitelja.
- U sezoni Digimon Spasitelji je predstavljen u više formi. Jedna od njih je i forma "7_D6", u kojoj izgleda isto kao i u sezoni Sledeći. Takođe postoji i "prava" forma koja je prikazana na slici.
Digimon X-EvolucijaEdit
- U filmu Digimon X-Evolucija je predstavljen u obliku mehura. Više na Digimon_X-Evolucija#Digimon Film 8: Digitalni Monstrumi X-Evolucija
Drvo ServeraEdit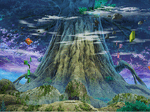 Drvo Servera iz Digimon Spasitelja.
- U obliku drveta je predstavljen u sezoni Digimon Spasitelji. Kada su se Masaru, Tohma i Jošino penjali na njega, primetili su da se unutar njega nalaze žice, i saznali su da je on u stvari glavni kompjuter koji kontroliše DigiSvet.
Norn MikiharaEdit
- Na japanskom Norn Mikihara (美樹原 ノルン Mikihara Norun), ime dobila po mitološkim bićima Nornama. Ona je u stvari Jgdrasil u ljudskoj formi. Pojavljuje se u sezoni Digimon Sledeći.
Ad blocker interference detected!
Wikia is a free-to-use site that makes money from advertising. We have a modified experience for viewers using ad blockers

Wikia is not accessible if you've made further modifications. Remove the custom ad blocker rule(s) and the page will load as expected.